The first sculpture I have been making is a squiggle. This is an idea that that I have had for a while now and I thought it would be a good way to get back into using the workshops because it is something which I definitely wouldn't have been able to make without a proper metal workshop.
To give a bit more of an insight into the sculpture, the way that I characterised the piece previosuly was that it would be like a 'metal tumbleweed' about the size of a beach ball, roughly spherical and made of bent metal tube powder coated a pastelly minty turquoise kind of colour.
Here is an artist's impression of the squiggle:
I think the idea for wanting to make this was driven by wanting to make something which would be illogical in form. It would be really difficult to design something like this precisely, so its making has to be a trial and error kind of process, with the only aim really being that the tube has to join up at some point to become one completed squiggle. In this way the form of the piece is completely decided by the process of its making and the limitations of the processes used.
Here is an example of an object with an illogical design that I saw and took a picture of. It is an air vent (an object with a simple but important function) but it seems that whoever made it has drilled the holes in a completeley illogical fashion. At the top they are quite ordered but it looks as though when they got to the bottom they got bored and just drilled anywhere and used different size drill bits. Notice how I have characterised this object as being made by a person and the process of its making being inherently linked to human thought processes. In reading this object I assume that it could never have been made by a machine because it is too illogical. I am fascinated and baffled by these kinds of objects because they are a rupture in the normal built environment that we encounter outside.
Returning to the squiggle, I see it as a continuation of a piece that I made for my BA degree show which was a post. Here it is: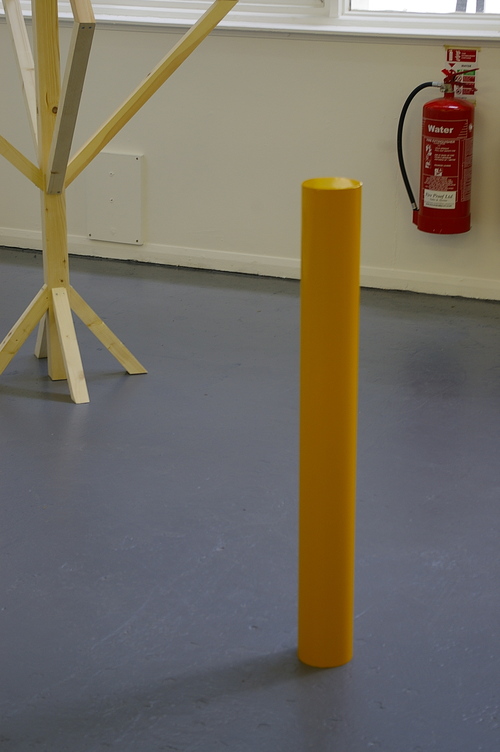 The idea of this piece was to make a post which would be the most postish post you had ever seen. I see a post as one of the simplest objects that we encounter outside, its function is usually as a barrier, but rather than a fence or other more complicated kind of barrier it is a singular unit. Another interesting thing about posts is that they come in alot of shapes and sizes and materials and finishes, but if you asked me to imagine a post this is the one I would imagine.
Similarly, the squiggle I want to make should be the epitome of squiggleishness. It needs to be illogical in a very precise way. The colour is also very important because it is one of a set of colours that I have been using in paintings over the past year, such as this one:
(colour looks a bit darker in this photograph than it really is)
This pallette of colours I would sort of refer to as 'municipal colours', meaning they are the kind of colours that are generally used in municipal environments, such as schools, hospitals, public toilets, public transport. Soothing, neutral colours which give an impression of order and logic. I like the idea of applying a logical colour to an illogical object and I am hoping that this will create a hiccup in the way that people read the scuplture, similar to the way that the vent with the randomly placed holes puzzled me.
For making the squiggle I spoke a bit with the metal technician and decided the best way to approach it would be to make alot of small curves and weld them together. I made the small curves using a hand bender to bend shorth lengths of steel pipe that is about 1/2" thickness.
After bending a few of these sections, they were looking a bit too geometric, so I realised that one of the things to avoid if I wanted the squiggle to seem illogical was straight sections. so I cut those bits off:
I carried on this process till I had about 20 bent pieces of pipe. The next stage was to weld them together, so I basically worked from the inside of the squiggle outwards, alternating the ends of the piece that I welded the bends onto and spreading outwards, trying to guide the piece into having a roughly spherical shape.
As the piece grew there came a point where I needed to think about joining it up into one continous length, so the two ends of the squiggle had to work their way towards each other and meet up.
Once the pipe had met up it was a case of angle-grinding and filing the welds. The piece is now in the spray shop and should hopefully be sprayed by the end of the week. In all the piece has took about a month's work, going in to use the workshop once a week, I think this piece was probably the most ambitious of the ideas that I want to make for the residency so maybe it was a good idea getting it out of the way first! Hopefully after the christmas break I will be able to pick up the pace and churn out a few simpler pieces.